Our UMW Leadership Team for 2022 (from left to right) Sandra Stricker, Becky Hazelwood, Jan Weicksel, Sarah Boylston, Donna Dowd, Janet Figueroa, Nancy Evatt, Mona Fleming, Jody Gaulin. (Not pictured are Linda Chapman, Ginger Kohler, Laura Smith, Marian Stillwell.)
Purpose of United Methodist Women
The organized unit of United Methodist Women shall be a community of women whose purpose is to know God and to experience freedom as whole persons through Jesus Christ; to develop a creative support fellowship; and to expand concepts of mission through participation in the global ministries of the church.
A major benefit of the UMW is the fellowship and support of a community of caring women at Saint Mark who make up this group. There are six circles that meet each month, September – May/June. See the schedule in the right column.
The UMW also cares for our congregation by providing bereavement receptions/meals to church family members who have lost a loved one. See the schedule in the right column.
Come and visit the UMW Circle meetings and events!
---
Photo Gallery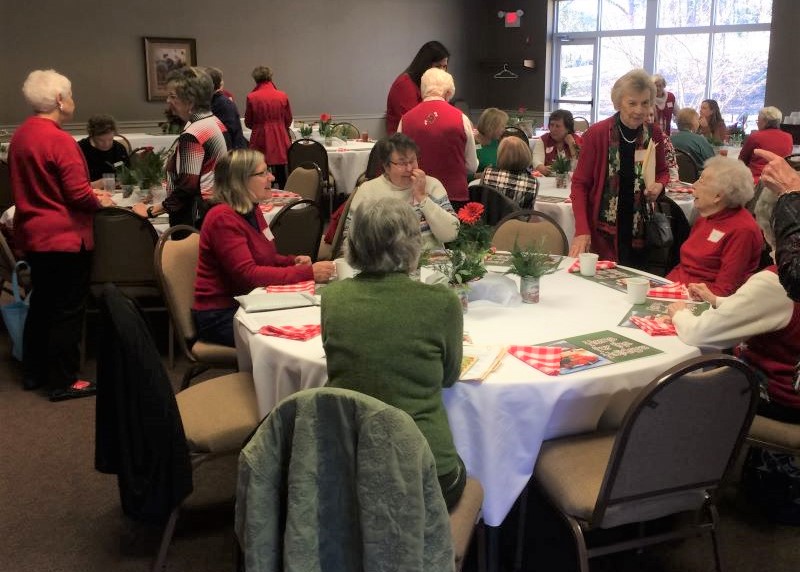 UMW Mission Focus Issues
United Methodist Women is the largest denominational faith organization for women with approximately 800,000 members whose mission is fostering spiritual growth, developing leaders and advocating for justice.
Members raise up to $20 million each year for programs and projects related to women, children and youth in the United States and in more than 100 countries around the world.
United Methodist Women and The United Methodist Church's principles and values include:
Promoting the empowerment of women, children and youth.

Promoting anti-racism and multiculturalism.

Promoting inclusion and equity.

Promoting fair labor practices.

Promoting economic and environmental stewardship and sustainability. *
Learn More About Our MISSION FOCUS
---
Mission Giving
United Methodist Women is trusted with pledges and donations from individual members and local member organizations, as well as mission partners and anonymous donors who have a heart for mission. We support programs in the United States and around the world that benefit women, children and youth - thereby impacting entire communities. As an agency of The United Methodist Church, United Methodist Women abides by the Social Principles and Discipline as determined by General Conference, giving only to projects in accordance with those guidelines.
Through their generosity, United Methodist Women members transform the lives of women, youth, and children in the United States and around the world.
United Methodist Women's Mission Giving – which is unrestricted funds – supports the total program of the organization. There are five avenues for Mission Giving: Pledge to Mission, Special Mission Recognition, Gift to Mission, Gift in Memory, and World Thank Offering. *
Learn More About MISSION GIVING
---
Living the Vision of United Methodist Women *
We provide opportunities and resources to grow spiritually, become more deeply rooted in Christ and put faith into action.
We are organized for growth, with flexible structures leading to effective witness and action.
We equip women and girls around the world to be leaders in communities, agencies, workplaces, governments and churches.
We work for justice through compassionate service and advocacy to change unfair policies and systems.
We provide educational experiences that lead to personal change in order to transform the world.
---
Schedule of Bereavement Refreshments 2022
The circle responsible for providing refreshments for the family of the deceased will be determined by the month of the deceased's funeral service.
January - Abigail
February - Deborah
March - Elizabeth
April - Faith
May - Ruth
June - Susanna Wesley
July - Abigail
August - Deborah
September - Elizabeth
October - Faith
November - Ruth
December - Susanna Wesley
January 2023 - Elizabeth
February 2023 - Faith
Saint Mark UMW Circles
Abigail Circle
First Mondays at 11:30 am
Commons Room
Contact: Judy Elrod
Elizabeth Circle
First Thursdays at 10:30 am
In Keowee Key
Contact: Linda Chapman
Contact: Laura Smith
Ruth Circle (Four)
First Tuesdays at 2:00 pm
at Saint Mark
Contact: Nancy Evatt
Faith Circle
First Mondays at 10:00 am
at Saint Mark
Contact: Jody Gaulin
Susanna Wesley Circle
Second Mondays at 12:30 pm
at Saint Mark
Contact: Janet Figueroa
Contact: Becky Hazelwood
Deborah Circle
First Mondays at 7:00 pm
Saint Mark Parlor (Room A202)
Contact: Sarah Boylston